Pick the option below that best matches your business needs
WE BUILD OUR COVERAGE TO MEET YOUR NEEDS
Planning for weddings and parties is a lengthy process, from scheduling deliveries and thinking of all details to sticking to a budget and meeting with vendors. Let us help you find the right insurance so you can organize a seamless event.
PICK THE COVERAGE YOU NEED
WE TARGET THE BUSINESSES THAT WE KNOW BEST
General liability, professional liability, property and data security. See if you are a fit for our competitive pricing.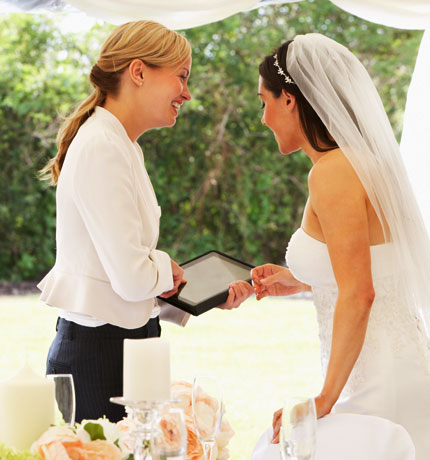 GENERAL LIABILITY
If someone is injured by tripping over your bag during an event you planned, they can bring a lawsuit against you. General liability can cover both the lawsuit and the medical expenses.
PROFESSIONAL LIABILITY
If you fail to have flowers delivered on time for the wedding you can be planning, your clients can sue you to cover their cost. Professional liability can cover both the legal fees and potential damages of the claim.
BUSINESS PERSONAL PROPERTY
If the property used for your business is damaged in a fire or stolen, you can be covered for its replacement.
DATA SECURITY
If your computer is hacked and your client's information is stolen, most states require that you notify each client in writing. Cyber liability can cover the costs and guide you through the process.

Coverage is based on the terms, conditions, limitations and exclusions of your policy. Be sure to read your policy to verify your coverage.
section id="section-work" class="page-section ">
BEST PRACTICES RESOURCES
Our best practices are a practical guide to help you avoid unnecessary claims
Always use written contracts - All clients have some degree of expectation for the event you plan for them, whether it is a wedding or a birthday party. Always use written contracts signed by your customers to confirm the details and to protect you if a client is unhappy with the event. A local attorney or industry group can help you word the contract correctly.
Be timely and thorough - A party planner might forget to book a venue, send out an invitation with the wrong date or arrange the incorrect food with a caterer. All of these mistakes can result in costly claims. To avoid this, it is important to track your bookings and double-check the details of each event.
Know your vendors - Problems can arise from the failure of a vendor you have hired for a party. If a caterer fails to provide food in a timely fashion at a wedding you planned, you can be held responsible since you recommended or hired the vendor. Be familiar with your vendors and find vendors you can trust.
Maintain open communication with your clients - Planning parties and weddings can involve clients who are highly stressed. Moreover, weddings can involve multiple people with strong opinions. Remember your duty to communicate with your client and filter out the opinions of others that your client does not agree with. Keeping written documentation of plans and changes is the best defense to a claim.
OPTION ONE
Do you work alone? Is your number one priority to cover any mistakes or errors that may occur from the professional services you provide? This is the option for you.
Quote Now
OPTION TWO
Are you an entrepreneur who has turned your passion into a business? Do you have inventory, or do you use equipment to provide your services? Do you have other equipment you're concerned about protecting? Choose this option.
Quote Now