Pick the option below that best matches your business needs
WE BUILD OUR COVERAGE TO MEET YOUR NEEDS
Tutors help not only children, but people of all ages, learn many types of subjects in individual and group settings. We can offer peace of mind while you focus on educating others.
PICK THE COVERAGE YOU NEED
WE TARGET THE BUSINESSES THAT WE KNOW BEST
General liability, professional liability, property and data security. See if you are a fit for our competitive pricing.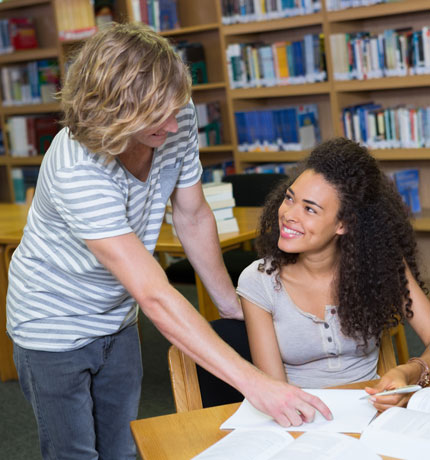 GENERAL LIABILITY
If you drop your student's laptop during a tutoring session, they can bring a lawsuit against you. General liability can cover both the lawsuit and settlement.
PROFESSIONAL LIABILITY
If a parent accuses you of failing to prepare their child for a test, they can bring a claim against you. Professional liability can cover both the legal fees and potential damages of the claim.
BUSINESS PERSONAL PROPERTY
If the property used for your business is damaged in a fire or stolen, you can be covered for its replacement.
DATA SECURITY
If your computer is hacked and your client's information is stolen, most states require that you notify each client in writing. Cyber liability can cover the costs and guide you through the process.

Coverage is based on the terms, conditions, limitations and exclusions of your policy. Be sure to read your policy to verify your coverage.
BEST PRACTICES RESOURCES
Our best practices are a practical guide to help you avoid unnecessary claims
Set appropriate expectations - Tutors may be sued by parents whose child fails an important exam. Due to this risk, it is valuable to discuss your role by setting reasonable expectations and goals with all the parties involved. Do not make promises that cannot be upheld.
Tailor your lessons to the individual - What works for one student may not work for another. Listen to the feedback your students provide and make the appropriate adjustments. By assessing your students individually and maintaining flexibility in your tutoring style, you will increase the likelihood of a positive outcome.
Be prepared - Preparation can maximize the time spent with a student. It is valuable to have a working knowledge of the topic you are discussing with your student. Create an agenda to structure each meeting.
Know your role - Tutors have been sued for completing students' assignments, assisting with take-home exams or commenting on other instructors. You are responsible for helping the student through the learning process rather than doing their work for them.
Stay safe - When conducting one-on-one tutoring sessions, try to meet your client in a public space during daytime hours. Always have your mobile phone with you and be quick to report any incidents. Perceived inappropriate or unwanted touching becomes a he-said she-said court battle, and even groundless lawsuits can have a devastating effect on your career.
OPTION ONE
Do you work alone? Is your number one priority to cover any mistakes or errors that may occur from the professional services you provide? This is the option for you.
Quote Now
OPTION TWO
Are you an entrepreneur who has turned your passion into a business? Do you have inventory, or do you use equipment to provide your services? Do you have other equipment you're concerned about protecting? Choose this option.
Quote Now