Pick the option below that best matches your business needs
WE BUILD OUR COVERAGE TO MEET YOUR NEEDS
Notaries witness document signatures, administer oaths and prepare various contracts. These detailed scenarios require focus, and we want to make sure you and your integrity are protected.
PICK THE COVERAGE YOU NEED
WE TARGET THE BUSINESSES THAT WE KNOW BEST
General liability, professional liability, property and data security. See if you are a fit for our competitive pricing.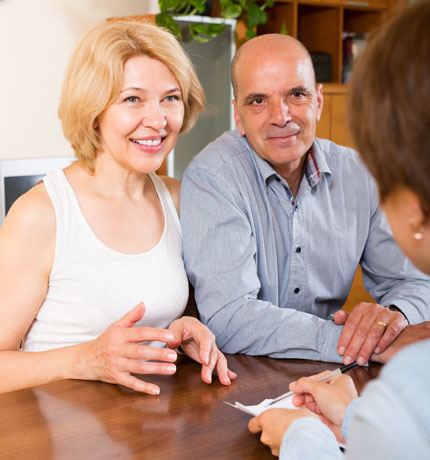 GENERAL LIABILITY
If someone is injured from tripping over your bag while you are notarizing a document, they can bring a lawsuit against you. General liability will cover both the lawsuit and the medical expenses.
PROFESSIONAL LIABILITY
If your client accuses you of notarizing a forgery, whether intentional or not, they can pull you into a lawsuit. Professional liability can cover both the legal fees and potential damages of the claim.
BUSINESS PERSONAL PROPERTY
If the property used for your business is damaged in a fire or stolen, you can be covered for its replacement.
DATA SECURITY
If your computer is hacked and your client's information is stolen, most states require that you notify each client in writing. Cyber liability can cover the costs and guide you through the process.

Coverage is based on the terms, conditions, limitations and exclusions of your policy. Be sure to read your policy to verify your coverage.
BEST PRACTICES RESOURCES
Our best practices are a practical guide to help you avoid unnecessary claims
Keep a log of all notarial acts - A record can aid if you need to testify in court or prove that you were compliant when notarizing. Remember to make note of special circumstances and store your records for at least five years.
Stay disciplined with the basics - Always ensure that the signer is present before notarizing and that they provide the appropriate evidence for identification. It is common for employee notaries to be presented with documents that have been already signed or unsigned documents to be notarized. Living by the basics can help you avoid claims.
Do not notarize documents that you know to contain false content - As relationships are built with clients, you might face pressure to notarize documents that you do not feel comfortable notarizing. You may be asked to testify about these documents at some point in the future and your reputation and license might be on the line.
Do not allow another person to notarize on your behalf - An individual can be charged with a misdemeanor or felony for impersonating a notary.
Do not notarize over webcam - With the growing popularity of video conferencing, a notary may be expected to notarize over a webcam. It is legally required that the notary be physically present in the same room when notarizing a document. The presence of a person on a screen does not qualify.
Communicate directly with the signer - Most states do not allow you to communicate to a signer through an interpreter or translator. Check the requirements of the state where you conduct business.
OPTION ONE
Do you work alone? Is your number one priority to cover any mistakes or errors that may occur from the professional services you provide? This is the option for you.
Quote Now
OPTION TWO
Are you an entrepreneur who has turned your passion into a business? Do you have inventory, or do you use equipment to provide your services? Do you have other equipment you're concerned about protecting? Choose this option.
Quote Now