WE BUILD OUR COVERAGE TO MEET YOUR NEEDS
You guide your clients to the life they want lead. The process can be difficult but ultimately rewarding. We can help you get the right coverage so that your work can be the top priority.
Quote Now
PICK THE COVERAGE YOU NEED
WE TARGET THE BUSINESSES THAT WE KNOW BEST
General liability, professional liability, property and data security. See if you are a fit for our competitive pricing.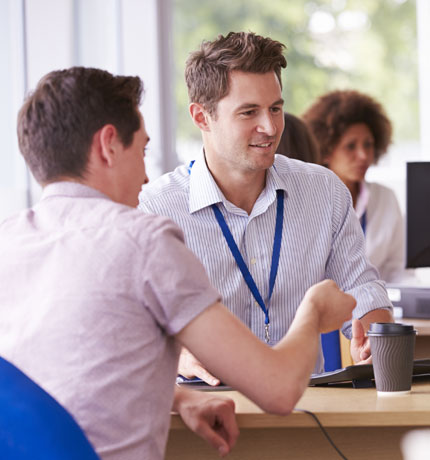 GENERAL LIABILITY
If your client is injured by tripping over your bag, they can bring a lawsuit against you. General liability can cover both the lawsuit and the medical expenses.
PROFESSIONAL LIABILITY
If a client realizes in a session with you that they do not like their job and later tells their boss, which results in their being fired, your client can bring a lawsuit against you. Professional liability can cover both the legal fees and potential damages of the claim.
BUSINESS PERSONAL PROPERTY
If the property used for your business is damaged in a fire or stolen, you can be covered for its replacement.
DATA SECURITY
If your computer is hacked and your client's information is stolen, most states require that you notify each client in writing. Cyber liability can cover the costs and guide you through the process.
Coverage is based on the terms, conditions, limitations and exclusions of your policy. Be sure to read your policy to verify your coverage.
BEST PRACTICES RESOURCES
Our best practices are a practical guide to help you avoid unnecessary claims
Know your limitations - It is important to remember that life coaching is not therapy. If a client is in need of treatment from a licensed therapist but does not pursue it due to their work with a life coach, a suit could arise. The focus of coaching sessions should be on helping your clients set and achieve personal and professional goals for the future. If the need arises, refer your client to a licensed specialist.
Draw appropriate boundaries - Ultimately, your clients are responsible for themselves. Avoid pressuring your clients into making decisions or implementing practices they are not comfortable with. Claims have resulted from clients who were pressured by their coach to quit their job, only to have them realize that they made a wrong decision. As a life coach, it is in your best interest to provide support, advice and encouragement.
Manage the expectations of your clients - In your first session with a client, it is valuable to clarify your role as a life coach. A client may not fully understand the services you provide, which can lead to misunderstandings as your working relationship with the client progresses.
Maintain confidentiality - Though life coaches are not subject to the same confidentiality laws as therapists or medical professionals, it is important to treat the information from your clients as confidential. Your clients assume that you are a trusted professional and expect their privacy.
CoverSmart is the best way to buy business insurance.
CoverSmart is an online quoting platform to purchase insurance from one or more USLI companies.
USLI companies are members of the Berkshire Hathaway family of companies and have an A++ Superior
rating for financial stability from A.M. Best Company.
Quote Now