Pick the option below that best matches your business needs
WE BUILD OUR COVERAGE TO MEET YOUR NEEDS
It takes time to develop your specialty as a fitness instructor. Whether you focus on yoga, boot camp, Pilates, Zumba, or TRX, we want you to be protected. With our coverage, you can put your energy towards your clients.
PICK THE COVERAGE YOU NEED
WE TARGET THE BUSINESSES THAT WE KNOW BEST
General liability, professional liability, property and data security. See if you are a fit for our competitive pricing.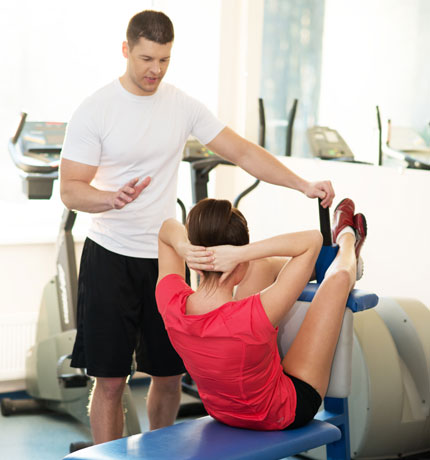 GENERAL LIABILITY
If someone is injured by tripping over your bag during a fitness class, they can bring a lawsuit against you. General liability can cover both the lawsuit and the medical expenses.
PROFESSIONAL LIABILITY
If a client injures their back as a result of your increasing the intensity of their workout, they can bring a lawsuit against you to obtain reimbursement for their medical bills. Professional liability can cover both the legal fees and potential damages of the claim.
BUSINESS PERSONAL PROPERTY
If the property used for your business is damaged in a fire or stolen, you can be covered for its replacement.
DATA SECURITY
If your computer is hacked and your client's information is stolen, most states require that you notify each client in writing. Cyber liability can cover the costs and guide you through the process.

Coverage is based on the terms, conditions, limitations and exclusions of your policy. Be sure to read your policy to verify your coverage.
BEST PRACTICES RESOURCES
Our best practices are a practical guide to help you avoid unnecessary claims
Signed waivers - Every physical activity involves a certain amount of risk of injury. In addition to liability insurance, protect yourself with a waiver signed by every client. These should be crafted in accordance with requirements for your state. Check with your local attorney or industry group for appropriate wording.
Listen to your clients - Without an appropriate screening questionnaire, waivers are not a guaranteed defense. It is vital for you to determine the level of risk that your client may present. Refer high risk clients for medical clearance before starting a program. Check with your certifying organization for their recommended questionnaire.
Proper instruction for use of machines and proper form - Many claims against personal trainers allege that the trainer did not instruct the client on the proper use of the machine or the proper form which resulted in injury. Have the client sign a form indicating that you instructed them on the use of each machine. Perform regular walk-throughs to ensure proper use and also to look for other potentials for injury or tripping hazards in the area.
Avoid high risk exercises - With the growing popularity of more extreme workouts, personal trainers are looking for ways to make their programs exciting and new. However, high risk exercises or those that are beyond your client's abilities come with high injury rates. When an injury occurs, is a jury filled with middle aged individuals or senior citizens going to view your exercise as reasonably safe.
Don't get so physical - Perceived inappropriate or unwanted touching becomes a he-said she-said court battle, and even groundless lawsuits can have a devastating effect on your career.
Avoid acting as a dietitian or endorser of supplements - Diet is such an important component of what you want to include but unless you are a registered dietician, you should not give out meal plans or make individualized nutritional assessments. Legally, only state registered dieticians can provide nutrition counseling. Do not recommend or sell supplements.
Emergency response plan - Even an injury or medical emergency not caused by your negligence can result in a claim against you if you don't give proper aid after the injury or medical emergency. Have a plan and first aid equipment for any medical emergency. If you have the equipment, make sure it works and is properly inspected. Fitness facilities have even been sued for not having a working defibrillator (AED).
OPTION ONE
Do you work alone? Is your number one priority to cover any mistakes or errors that may occur from the professional services you provide? This is the option for you.
Quote Now
OPTION TWO
Are you an entrepreneur who has turned your passion into a business? Do you have inventory, or do you use equipment to provide your services? Do you have other equipment you're concerned about protecting? Choose this option.
Quote Now