WE BUILD OUR COVERAGE TO MEET YOUR NEEDS
Whether you're transcribing court hearings, depositions or other official documents, finding the right
insurance policy is important. We can offer peace of mind so you can focus on providing accuracy
in your position.
Quote Now
PICK THE COVERAGE YOU NEED
WE TARGET THE BUSINESSES THAT WE KNOW BEST
General liability, professional liability, property and data security. See if you are a fit for our competitive pricing.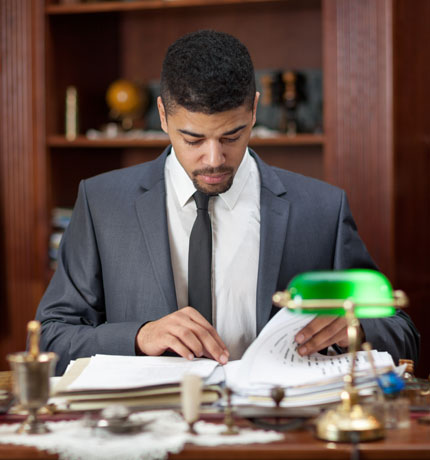 GENERAL LIABILITY
If someone is injured by tripping over your bag, they can bring a lawsuit against you. General liability can cover both the lawsuit and the medical expenses.
PROFESSIONAL LIABILITY
If you make a mistake on a court transcript that impacts a particular case, the law firm can bring a lawsuit against you. Professional liability can cover both the legal fees and potential damages of the claim.
BUSINESS PERSONAL PROPERTY
If the property used for your business is damaged in a fire or stolen, you can be covered for its replacement.
DATA SECURITY
If your computer is hacked and your client's information is stolen, most states require that you notify each client in writing. Cyber liability can cover the costs and guide you through the process.

Coverage is based on the terms, conditions, limitations and exclusions of your policy. Be sure to read your policy to verify your coverage.
BEST PRACTICES RESOURCES
Our best practices are a practical guide to help you avoid unnecessary claims
Remember the basics - Do not omit any portions of the trial transcripts or produce inaccurate transcripts. A careful proofread of all transcripts can help you avoid significant mistakes.
Timeliness - In order to avoid being held in contempt of court for not producing transcripts in a timely fashion, it is important to know the expectations of the attorney when arranging the delivery of the transcripts.
Keep track of your transcripts - Although rare, court reporters have faced jail time for misplacing transcripts.
Collect the relevant exhibits - It can be difficult, if not impossible, to track down exhibits once a deposition has ended. Do not be afraid to obtain all of the necessary exhibits while they are available.
Know the relevant names and terms - Do not hesitate to ask if you do not know the correct spelling of someone's name or an unusual term. In some cases, you can request the definitions of relevant terms to improve your accuracy.
Arrive to all court hearings or depositions on time - If you are unable to attend as planned, notify the agency you are working with to avoid any repercussions.
Do not hesitate to interrupt the proceedings - Someone who is speaking quickly or mumbling can make the process of recording nearly impossible. By asking them to speak up, you can help guarantee the accuracy of your reporting.
Back up your records - Maintaining duplicate copies of your transcripts can ensure that the loss of a transcript will not cause unwarranted harm. Claims from an involved party who alleges that they have been harmed by the loss of the transcript are common.
Comply with HIPAA (Health Insurance Portability and Accountability Act) regulations - If you fail to correctly handle what qualifies as Personally Identifiable Information (PII), you can face legal ramifications. It is prudent to keep original exhibits in a locked, secured room and electronic data on servers that are protected by a firewall with updated anti-virus software.
CoverSmart is the best way to buy business insurance.
CoverSmart is an online quoting platform to purchase insurance from one or more USLI companies.
USLI companies are members of the Berkshire Hathaway family of companies and have an A++ Superior
rating for financial stability from A.M. Best Company.
Quote Now